It has been about one and a half years since the COVID-19 pandemic started within the United States. The COVID-19 pandemic consequentially altered how pediatric practices engage with patients. While the changes were significant, pediatric practice leaders and owners learned how to optimize the situation. The wearing of masks and practice of social distancing throughout the winter of 2020-2021 helped in managing the spread of COVID-19, while also resulting in a dramatic reduction in the number of sick visits at pediatric offices. 
The visit count in the third quarter of 2021 is much higher than the total visit count was in the third quarter of 2020 (likely due to the stay at home orders). If the third quarter of 2021 is compared to the third quarter of 2019 (the year prior to COVID-19), the average practice experienced about a 6% increase in visits during 3Q21 vs. 3Q19. This is good news. The average pediatric practice had more visits in the 3Q21 when compared to two years ago (pre-COVID). Much of this is related to the demand for well visits prior to children returning to in-person education. A primary reason for low visit counts during the previous time frame was that children were attending school remotely and limited in extracurricular activities. The continuation of the wearing of masks, parallel to the practice of social distancing and/or limiting certain activities, may continue to impact the total visits to pediatric offices.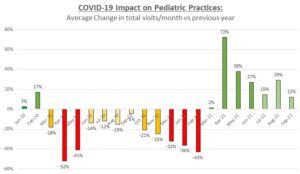 There is much to learn from the COVID-19 pandemic in relation to operating a pediatric practice. One key learning is that the pandemic further confirmed that the core role of pediatric office visitations are well visits and pediatric vaccinations. Due to this, pediatric practice leaders and owners should become more centered on scheduling well visits for patients that are due or overdue for an appointment, as well as patients behind on their vaccinations.
Operating and managing a pediatric practice since the start of COVID-19 was challenging from both a medical and business perspective. Such an environment required pediatric practice leaders to improve and enhance their flexibility, learning, and resilience